Welcome to Lake Mills Community School!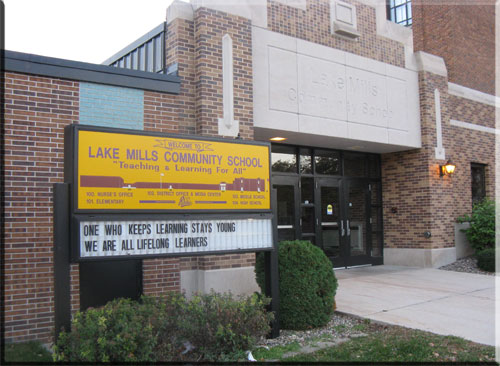 The public school system has been an important part of the Lake Mills, Scarville, and Joice communities from their beginnings. The Lake Mills Community Elementary School, Middle School, and High School are all connected and centered around a state-of-the-art Library Media Center. Technological opportunities abound at LMCS, where the benefits of small, friendly classes are supplemented by on-line education from around the state, the nation, and the world. Think locally, act globally is both a community and a school point of view.
Special Announcements
High School Chorus Spring Show
The Lake Mills High School Chorus presents
Music at the Movies
Thursday, March 12 1:00 PM—Free matinee for elementary students and senior citizens
Friday, March 13 7:00 PM - Performance for the public
Tickets with reserved seating go on sale Friday, March 6, outside the Central Office
Adults & Students $5; Children 5 & under: FREE
Tickets will be on sale outside the Central Office from 8:00-8:20 and 3:15-3:45. Tickets can be bought during the day in the MS/HS Office.
Vehicle for Sale by Bids
View vehicle information and photos here.
Bids are due by 3:00 p.m. on Monday, March 9, 2015 to the LMCS central office, 102 S 4th Av E, Lake Mills, IA 50450 or may be sent by email to jfjelstad@lake-mills.k12.ia.us
Each submitted bid must include name of bidder, phone number, and a firm bid price. The Board of LMCS has the right to reject any or all bids.