Welcome to Lake Mills Community School!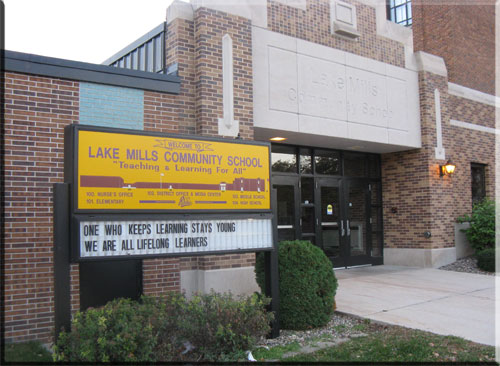 The public school system has been an important part of the Lake Mills, Scarville, and Joice communities from their beginnings. The Lake Mills Community Elementary School, Middle School, and High School are all connected and centered around a state-of-the-art Library Media Center. Technological opportunities abound at LMCS, where the benefits of small, friendly classes are supplemented by on-line education from around the state, the nation, and the world. Think locally, act globally is both a community and a school point of view.
Special Announcements
Welcome, Superintendent Chad Kohagen
Effective July 1, Chad Kohagen will become the superintendent of Lake Mills Community School. He preplaces Daryl Sherman, who retires after 39 years of service to LMCS, twenty-one years as superintendent.
"Alumni & Friends Marching Band"
Alumni & Friends join the LMCS Marching Band at the July Jubilee Parade on Saturday morning, July 11th. Email bfaugstad@lake-mills.k12.ia.us or call (507) 320-0428 by July 4th if you are interested in performing with the high school. We hope to hear from you soon!