Welcome to Lake Mills Community School!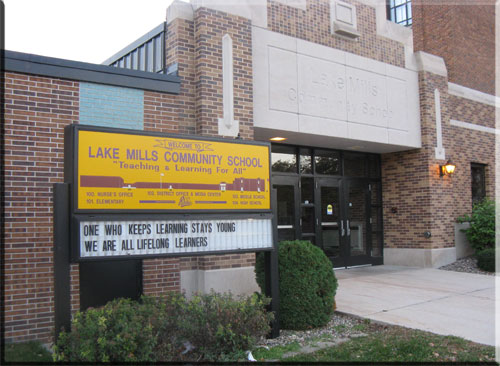 The public school system has been an important part of the Lake Mills, Scarville, and Joice communities from their beginnings. The Lake Mills Community Elementary School, Middle School, and High School are all connected and centered around a state-of-the-art Library Media Center. Technological opportunities abound at LMCS, where the benefits of small, friendly classes are supplemented by on-line education from around the state, the nation, and the world. Think locally, act globally is both a community and a school point of view.
Special Announcements
Open Meeting on Topics of Bullying and Harassment
Parents are invited to attend an open meeting Thursday, September 4th at 6:30 p.m. in the school LMC (Library Media Center)
Items of discussion are Board Policies 105 and 502.10 related to bullying and harassment; LMCS procedures/investigative steps and follow-up; procedures from other schools; student education and discipline options; student rights and confidentiality; and next steps.
All parents wishing to attend are welcome.
Elementary Classroom Supply List
View the 2014-2015 Supply List
Middle School Classroom Supply List