Welcome to Lake Mills Community School!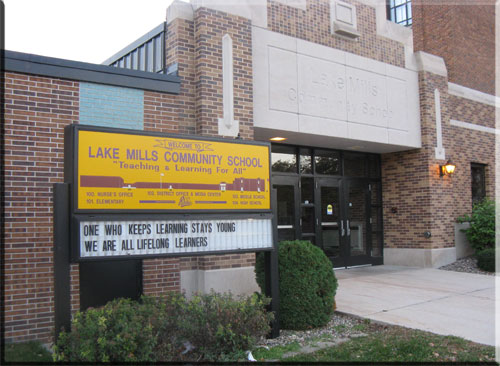 The public school system has been an important part of the Lake Mills, Scarville, and Joice communities from their beginnings. The Lake Mills Community Elementary School, Middle School, and High School are all connected and centered around a state-of-the-art Library Media Center. Technological opportunities abound at LMCS, where the benefits of small, friendly classes are supplemented by on-line education from around the state, the nation, and the world. Think locally, act globally is both a community and a school point of view.
Special Announcements
Central Office Part Time Administrative Assistants
Up to 25 hours per week Nutrition Administrative Assistant - 7:00am to 12:00pm
Up to 25 hours per week Activities Administrative Assistant - 12:00pm to 5:00pm
Complete Job Descriptions on our school Facebook page and Graphic Newspaper
Applications found on website or can be picked up in the Central Office
Please return application and resume to the Central Office no later than May 31st.
Band and Chorus
Congratulations to our high school concert band and chorus for earning a Division I "Superior" Mark at State Contest on May 7th!