Welcome to Lake Mills Community School!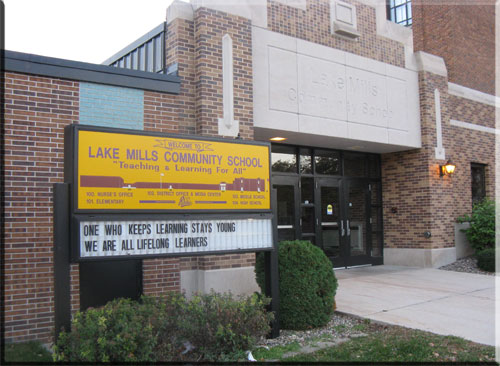 The public school system has been an important part of the Lake Mills, Scarville, and Joice communities from their beginnings. The Lake Mills Community Elementary School, Middle School, and High School are all connected and centered around a state-of-the-art Library Media Center. Technological opportunities abound at LMCS, where the benefits of small, friendly classes are supplemented by on-line education from around the state, the nation, and the world. Think locally, act globally is both a community and a school point of view.
Special Announcements
Iowa School Food Settlement Reimbursement
Information for meal cost reimbursements from the Iowa School Food Settlement can be found at this website: http://iowaschoolfoodsettlement.com/
All claims must be filed by September 30, 2014.
LMCS Anti-Bullying Advisory Committee
If you have an interest in being a part of the Anti-Bullying Advisory Committee, please contact any one of these people: Ginger Duer (592-0061), Jeremy Rogstad (592-2791), or Daryl Sherman (592-0881). The school board will officially approve the formation of the ad hoc committee at the October 13 board meeting. See the Communique in the Sept. 17 Graphic for more details.